The Search for Authentic Karate.
'Authentic karate'? 'Authentic Wado'? What does it really mean?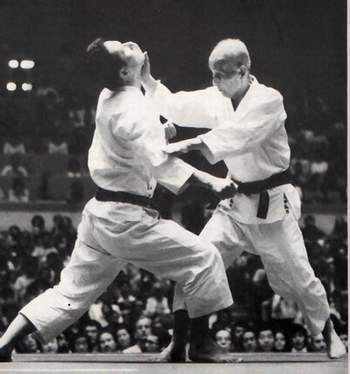 I keep coming across the word 'authentic' in reference to Wado karate; but what is 'authentic Wado', does it even exist?
Obviously, this doesn't just apply to Wado karate, it could apply to absolutely anything.
To understand the application of the word 'authentic', it may be useful to zoom out and explore examples from the wider world.
Bear with me on this…
The visual arts.
I think I can safely say that the version of Van Gogh's 'Sunflowers' in the National Gallery in London is authentic. I take it on faith that is has been verified by experts who can be sure of its origin, its provenance, and much responsibility rests on the shoulders of these experts; because if they get it wrong their reputation is in tatters.
So, there you have it; my faith in the gallery and my belief in the experts and their credentials. Of course, none of these experts alive today met Van Gogh, or witnessed him producing the painting, instead they have to follow the historical paperchase that ties this one painting to the hand of Vincent Van Gogh.
But all examples from art history have tangible, survivable, material outcomes. In the same National Gallery we can directly experience authentic outcomes of genius-level by artists like Titian, Velazquez and Leonardo da Vinci.
If you want an example of how people can tie themselves in knots over 'authenticity' in the art world, Michelangelo's master work in the Vatican, the Sistine Chapel, Painted 1508 to 1512, is a great place to look.  There is no doubt that the work is 'authentic' but in the 1980's an unholy row erupted over the restoration of the massive fresco. The idea was to remove centuries of candle smoke and grime to restore it to its authentic colours and details, to present it 'as the artist intended'. But certain purists held up their hands in horror. Their view was that the artwork had 'earned' its accumulated filth, I suppose they considered it an 'aged patina'. Even today, the art world is divided.
But, as I have said before; these are artefacts, not traditions that have been passed down from master to student over many generations. If you are so inclined you can visit these galleries and view up close the brush marks of genius; the hand of the master; but not so with traditional Japanese martial arts. The thread that goes back into history is incredibly fragile as it is re-spun by each generation; sometimes the threads become partially broken and sometimes they are artfully reinforced with newer elements that perhaps enhance their intentions, without betraying the core essence.
Martial arts and particularly Wado karate.
When we use the word 'authentic' in the context of martial arts and karate, are we guilty of multiple crimes? Let me list the possible misdemeanours:
·       Misrepresentation?
·       Snobbery?
·       Imprecise language?
·       Elitism?
·       Engaging in a logical fallacy?
·       Weaponising your credentials?
·       Romanticising some kind of origin myth?
The above list may look rather cynical, but I thought I would put it all out there. If anything, maybe it can be used as a kind of checklist to call out our own biases and prejudices?
Imprecise Language.
Language is a sophisticated toolbox and we all know what happens when we use the wrong tool for a job; a woodscrew is meant to be addressed by a screwdriver not a hammer.
In Japanese martial arts I have come across other attempts to define the characteristics of what I am calling 'authenticity', but using entirely different words; it's the same problem but just different tools. Let me float these possibilities:
·       Classical karate.
·       Traditional karate.
·       Old School karate.
That last one I just made up, but I'm sure some somebody must have tried to use it in the past, but the other two I know for a fact have been employed to define or rubber stamp the identity of one martial art group or another.
'Classical karate' has an honest ring about it, but to my mind it has the implication of a reactionary agenda, the opposite of 'progressive' and sounds like it belongs in a museum - would anyone be bold enough to refer to what they are doing as 'Classical Wado'?
'Traditional karate' begs the question, 'whose tradition'? and, 'just what makes a tradition anyway'? The more you dig into it the more difficult it gets and you end up encountering the same problems you did with the word 'authentic'. It also sounds a bit… stuck.
A brief mention of the term, 'mainstream'. For me this is almost purely a political word. For example, we are more likely to hear the words, 'mainstream Wado', but seldom 'mainstream karate'. Modern karate, by its very nature, is accepted as 'broad church', while when the word 'mainstream' is applied the implication tends to be the opposite of 'broad church'. By the way, I am not a fan of the phrase 'broad church' either; it just sounds like an excuse.
The flip-side.
Speaking generally, the concept of light does not exist without its opposite – darkness. The same with good and evil. We may focus on one but, at the back of our minds, lurks its evil twin.
So, if we have 'authentic', there must exist the idea of 'inauthentic'. Understanding what inauthentic looks like can be a useful tool in our definition, but such tools can easily become weapons (hence, the list above and 'weaponising').
'Inauthentic' in the art world is an out and out fake, usually a sneaky deception designed to fool someone into parting with their money. In the martial arts world something that has the charge of inauthenticity levelled at it usually exists because the perpetrators are fooling themselves, or to put it more kindly; maybe the thread has been lost, the string snapped somewhere way back down the line and nobody noticed. Or, if they did, they lacked the courage or the motivation to repair the break.
A sideways look at authenticity.
Maybe authenticity as it applies to martial arts resides in a different place altogether? One that defies the accepted usage of the word?
Perhaps authenticity has other dimensions that enhance the traditions and enliven their potential for not just survival, but also for development as well?
In most people's minds the idea of something being authentic seems to pin it to some kind of timeline; a historical focal point, quite often around a person who is/was real or just a legend. So, for us Wado people that might be the founder/originator of Wado Ryu, Otsuka Hironori, or even, at a stretch, Akiyama Shirōbei Yoshitoki, (we know that Otsuka Sensei cited his name as the founder of Wado Ryu). To rely entirely upon that pin in the timeline is, to me, a flawed project, one that will become an inevitable victim of degradation and decay. If we do that in Wado karate we may as well start waving the white flag now.
I am reminded of something American evangelist Billy Graham said in response to a criticism levelled at him by conservative Christians at the time, who said he had set the church back fifty years! His reply was, "I am deeply ashamed. [for] I have been trying very hard to set the church back 2000 years!" While I see what he was getting at, it was a very pointed, direct barb to his critics, but it is far too simplistic as a mission statement. Imagine stating that you wanted to set Wado karate back eighty-four years, to the day it was defined as an entity by Otsuka Sensei and given the seal of approval by the Butokukai – it is just unthinkably bonkers.
Perhaps the truest form of authenticity in martial arts is nested in the much-misunderstood concept of 'Shu Ha Ri'? It is too big a subject to go into in this one blog post; but in a nutshell, evolution within martial arts doesn't mean a complete and total departure from what you do, it just means that what you moved on to is a jump up the evolutionary ladder; but it still holds on to its core principles at a cellular level.
Put really simply; it's not going to be about this foot here or this single technique there, or a move in a kata, instead it is going to be about how the individual practitioner has forged themselves in the fire of their given discipline – so it's not the system that is being authentic… it is the individual who is an expression of authenticity. As in music; should we be looking at the instrument, or what the musician does with it, as they become a vehicle for the genius of the music?
Maybe, in the urge to find authenticity we put too much focus on the institutions that claim to be the guardians of the fire, the holders of the flame, and not enough on the nurturing of the individuals responsible for expressing the true essence and carrying the core principles forward?
It's just an opinion – other opinions are available.
1
I have also heard the phrase 'Wado-based' and even 'Wado-lite' (as a back-handed insult).